Local Dealers and Association Executives Attend NADA's Annual White House Economic Summit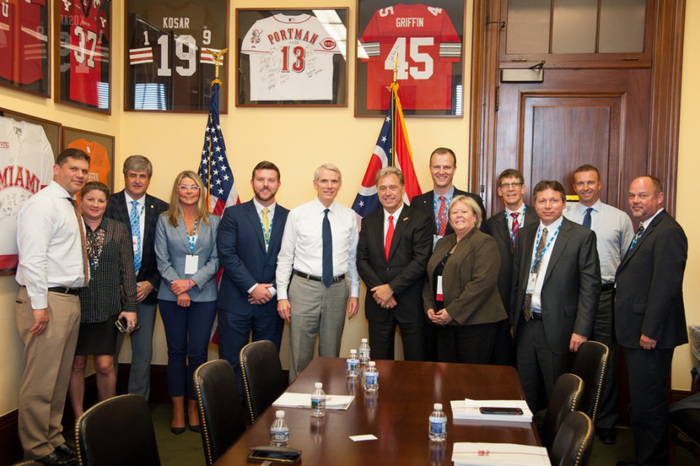 In September NADA held its annual Washington D.C. Conference, which brought dealers and automotive trade association executives from across the country to our nation's capital to lobby legislators on issues important to our industry. Topics on this year's agenda included the tariff pursuit as well as legislation related to recalls and autonomous vehicle regulations.
Ohio had one of the largest contingents of dealers in attendance, including our Next Gen dealers Paul Hrnchar, Jr. (North Olmsted Chrysler Jeep Dodge Ram), Dan Kommeth (Performance Lexus), Bridget Reinberger (Lebanon Chrysler Dodge Jeep Ram), and Luke Sweeney (Jake Sweeney Mazda West).
Also in attendance were Ohio NADA Director and OADA Chairman Rhett Ricart from Ricart Automotive, NADA Director Representing Women Dealers East Michelle Primm from Cascade Auto Group, OADA Trustee Dan Reineke from Reineke Family Dealerships, and OADA Trustee Alison Spitzer with her husband Jeremy Swartz from Spitzer Auto Group.
The group met with numerous members and/or staff from Ohio's Congressional delegation, including Senator Rob Portman (R- Terrace Park) and Reps. Warren Davidson (R- Troy), Brad Wenstrup (R- Cincinnati), Bob Latta (R- Bowling Green), Jim Jordan (R- Urbana), Dave Joyce (R- Novelty), Joyce Beatty (D- Blacklick), Steve Chabot (R- Cincinnati), Jim Renacci (R- Wadsworth), Troy Balderson (R- Zainesville), and Steve Stivers (R- Columbus).
OADA will continue to work with NADA and our congressional delegation on issues that impact dealership operations. Thank you to all the dealers who participated in this year's conference!