Complete Story

Infiniti of Dayton Enhances Agape for Youth, Inc.'s CPR Training Program with Donation
Infiniti of Dayton Enhances Agape for Youth, Inc.'s CPR Training Program with Donation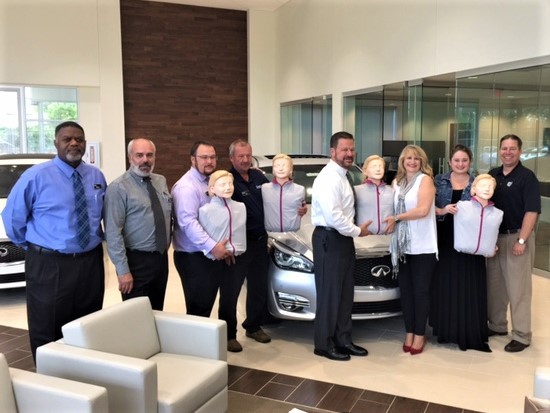 Dayton, OH- The CPR Training Program of Agape for Youth, Inc. was greatly enhanced this week when INFINITI of Dayton, in partnership with the Ohio Automobile Dealers Association (OADA) and the National Automobile Dealers Charitable Foundation (NADCF), presented a Little Anne Four Pack CPR training kit.

Agape for Youth, Inc. was founded in 1989 in order to place children into foster homes which could guide and support youth in becoming functioning individuals in society. Over the past 28 years Agape has built a strong reputation in the community as a leader in quality therapeutic foster care. Over the years Agape has expanded its services to include family foster care, providing adoption home studies, preparation of families and children for adoption, and supportive services to adoptive families. In 2008, the Reunification Services program was added and this program has provided the opportunity to work with families whose children are making the transition from foster care back to their biological family.

With additional services and continued growth, Agape for Youth, Inc. continues to uphold the fundamental belief of providing personal services to each family and youth working with our agency and supporting those individuals as they work together as for the success of the youth in their care.

In order to be a licensed foster/adoptive parent in the state of Ohio you must complete 36 hours of Pre-Service training. This curriculum is completed over the course of 14 classes including CPR and First Aid. The Little Anne Four Pack CPR Training kit will be used by instructors at Agape to train prospective foster parents and provide the required refresher trainings for staff certified in CPR and First Aid. Agape estimated an additional 45 people will now have the opportunity to get CPR certified thanks to INFINITI of Dayton's generous donation!

INFINITI of Dayton's General Manager Scott Evans, along with Chris Haas and Emily Steveley of the Ohio Automobile Dealers Association, presented the CPR training unit at the dealership on September 19th.
---
ABOUT INFINITI OF DAYTON
Part of the Evans Dealer Group, INFINITI of Dayton has been proudly representing INFINITI in the Dayton, Cincinnati, Kettering, Springfield, Cleveland, Columbus and Middletown Ohio for 20+ years. INFINITI of Dayton is conveniently located at 299 Loop Road.