Complete Story

Young Trucks Donates Baby Anne Training System to Perry Township Fire Department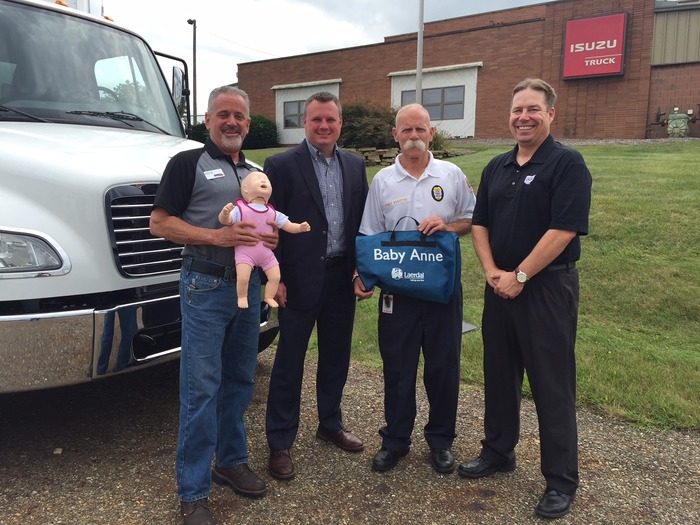 Pictured from left to right: Young Trucks' Safety Director Mark Cush and Vice President Ryan Young, Perry Township Fire Department's Chief Mark Martin and OADA's Director of Dealer Services Chris Haas.
CANTON, OH
AUGUST 30- The Perry Township Fire Department was greatly enhanced this week when Young Trucks, in partnership with the Ohio Automobile Dealers Association (OADA), presented a Baby Anne CPR training unit.
The Perry Township Fire Department is comprised 3 Fire Stations that provide fire and EMS services to nearly 28,000 residents spanning approximately 23 square miles. All 63 personnel are, at a minimum, certified as Firefighters, Emergency Medical Technicians or Paramedics. Department instructors review the American Heart Association guidelines regularly and re-certify all staff every 2 years through both classroom and hands-on instruction. The Perry Township Fire Department currently owns one similar unit and anticipates training approximately 100 people this year thanks to the generous donation from Young Trucks.
Vice President of Young Trucks Ryan Young views this donation as a perfect way to give back to the Firemen and EMS personnel who work to make Perry Township a safer, more desirable place to live:
"Everyone at Young Trucks is very excited for the opportunity to help equip the fire department with the tools necessary to continue to serve our community. Their dedication to the residents, schools, businesses and organizations in our area is humbling, and we're just thankful to be able to play a small role in their continued efforts."
Young Trucks offers a variety of new and used medium and heavy-duty trucks, serving the Canton community since 1954. They know that the success of the company depends on the success of its customers, which is why they are dedicated to offering the very best trucks, parts and service in the industry. Equipped with top-notch sales, parts and service departments, staff at Young Trucks work to get customers back on the road in trucks that best suit their needs.
Ryan Young and Mark Cush of Young Trucks, along with OADA's Chris Haas, presented the training unit to Fire Chief Mark Martin at the dealership on August 30th.