Complete Story

Greenwood Chevrolet Gives Back to Austintown Township Fire Department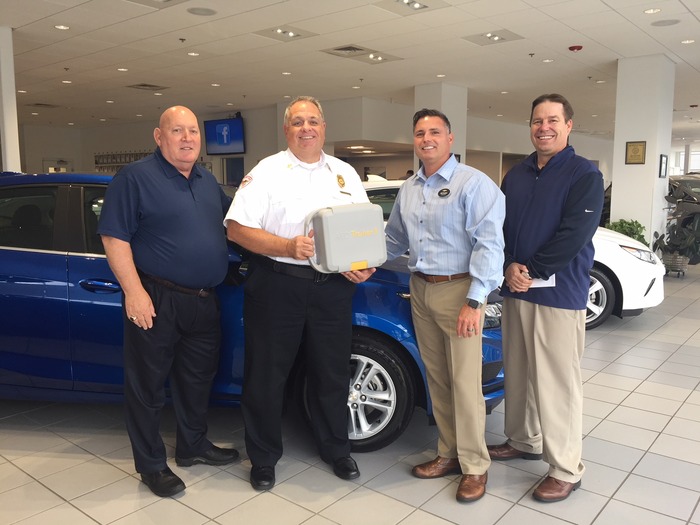 Pictured from left to right: Lee Tartler (Greenwood Chevy), Fire Chief Andy Frost III (Austintown Fire), Anthony Fusillo (Greenwood Chevy), and Chris Haas (OADA).
AUSTINTOWN, OH

OCTOBER 2- The Austintown Township Fire Department recently received a significant gift from Greenwood Chevrolet. The dealership, in partnership with the Ohio Automobile Dealers Association (OADA), presented an AED Trainer 3 CPR training system to the fire department.

The Austintown Township Fire Department is a combination fire department made up of 4 stations and staffed with 27 full-time and 35 part-time employees. Firefighters employed by the department are dual-trained in fire and medical, with almost 100% of staff being certified as EMTs. The department responds to approximately 4,500 emergency calls per year, and 72% of those calls are medical emergencies.

The Austintown Township Fire Department provides numerous classes and educational seminars to school children and civic groups throughout the community. In addition to being used for providing continuing education classes to its firefighters, the AED Trainer 3 will also assist in the training of Austintown residents. With an anticipated 40-50 classes a year and an average of 30 kids per class/seminar, an additional 1,200-1,500 people will have the opportunity to be trained this year thanks to Greenwood Chevrolet's generous donation.

Greg Greenwood, Owner and President of Greenwood Chevrolet, comments on the donation: "Our firefighters put their lives on the line to protect and save us in times of emergency. This partnership with OADA and the gift of the AED Trainer is our way to show the Emergency responders of Austintown we stand behind them and support their efforts."

Greenwood Chevrolet's General Sales Manager Anthony Fusillo and 35-year sales veteran Lee Tartler presented the training unit to Austintown Township Fire Chief Andy Frost III at the dealership on September 26th. Also present was OADA's Director of Dealer Services Chris Haas.

Greenwood Chevy is one of Ohio's largest Chevrolet dealerships, located in Austintown, Ohio. This State-of-the-Art dealership is committed to ensuring the total satisfaction of their customers by offering a wide selection of new and used, high-quality vehicles, an award winning staff of friendly professionals, a hassle-free car buying experience, and a large, convenient, well trained service department and collision center.