Complete Story

Vin Devers Autohaus Donates AED Trainer 3 to Sylvania Township Fire Department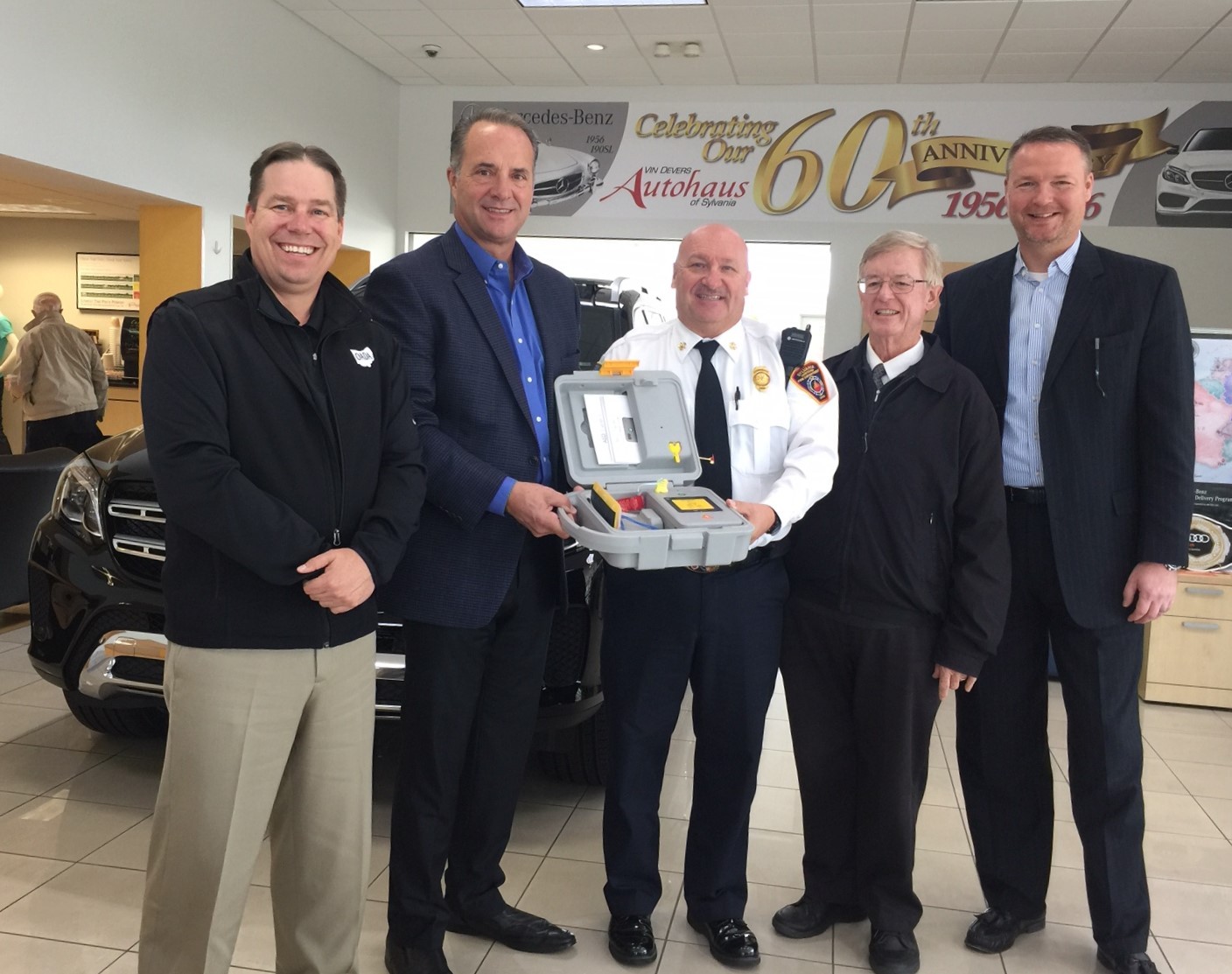 Pictured from left to right: Chris Haas (OADA), Paul Devers (Vin Devers Autohaus), Chief Michael Ram (Sylvania Fire), Mayor Craig A. Stough (City of Sylvania), and Jason Perry (Vin Devers Autohaus).

SYLVANIA, OH

OCTOBER 19- The CPR training program at Sylvania Township Fire was greatly enhanced when Vin Devers Autohaus, in partnership with the Ohio Automobile Dealers Association (OADA), presented an AED Trainer 3 instructional kit to the fire department.

Sylvania Township Fire strives to provide the best in fire protection, emergency medical services, fire prevention/community risk reduction and public safety education to the nearly 50,000 people that reside in Sylvania Township and City. The department consists of 4 fire stations staffed by highly-skilled career and part-time firefighters who work around the clock to serve and protect their community.

In addition to training and certifying personnel, Sylvania Township Fire offers year-round CPR and AED instructional classes to help educate the public and equip them with important life-saving skills. The AED Trainer 3, donated by Vin Devers Autohaus, enhances these efforts by providing a realistic training experience for emergency responders to deliver optimal therapy when facing cardiac arrest. It is estimated that hundreds of additional people will have the opportunity to be trained thanks to this generous gift.

Vin Devers Autohaus is a family-owned and operated dealership proudly serving the Sylvania area for over 50 years. Recognized as one of the premier Audi, Mercedes-Benz, Sprinter and Metris dealers in the United States, the dealership offers customers an excellent selection of new, pre-owned and certified pre-owned vehicles, as well as services such as auto maintenance, collision repair and reconditioning. In addition to selling cars, Vin Devers Autohaus takes pride in giving back to the community and actively supports the Sylvania Fire and Police Department, local schools, businesses, churches, temples and families. Visit www.vindevers.com to learn more.

President of Vin Devers Autohaus Paul Devers and General Manager Jason Perry, along with OADA's Director of Dealer Services Chris Haas, presented the AED Trainer 3 to Sylvania Township's Fire Chief Michael Ram at the dealership on October 19th. Also in attendance was Sylvania Mayor Craig A. Stough.