Complete Story

Fred Martin Superstore Supports Norton City Schools and Mental Health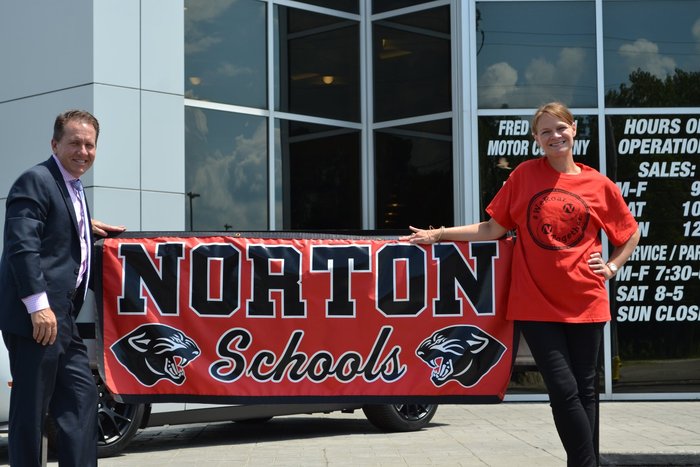 Pictured is Dana Addis, Superintendent of Norton City Schools and Ashley St. Pierre, Marketing Director of Fred Martin Auto Group. St. Pierre is wearing the district themed t-shirt.
Fred Martin Superstore has teamed with Norton City Schools to support the 2019-2020 District Theme: We Roar. Together. The theme is designed to bring attention to Norton City School's new 5-year strategic plan with emphasis on the "Whole Child". They will be focusing on initiatives, discussions, and educational programming designed to enhance the life of every one of their students. These activities will address mental health, anti-bullying, and wellness.
Norton's staff will work diligently and consistently on two student characteristics that are believed to be healthy for the students — Strength and Warmth. These will anchor their team's approach to supporting and equipping each child in a manner that benefits them most. "We Roar" represents strength, and "Together" represents warmth.
Fred Maritn Superstore's $10,000 donation helps support the District t-shirt, as well as other programming and initiatives related to the theme. Over 3,000 t-shirts will be supplied to students and staff. They will be encouraged to wear the t-shirts several times throughout the school year to keep the focus on the "Whole Child".
There is excitement within the community that many students will have their "best year ever" under this umbrella of guidance and support. Fred Martin Superstore is happy to be a part of this plan in helping the children grow up to be great individuals full of strength, compassion and understanding.