Complete Story

Evans Arena Chrysler Dodge Jeep RAM Donates CPRmeter to Harrison Township Fire Department
Dayton, OH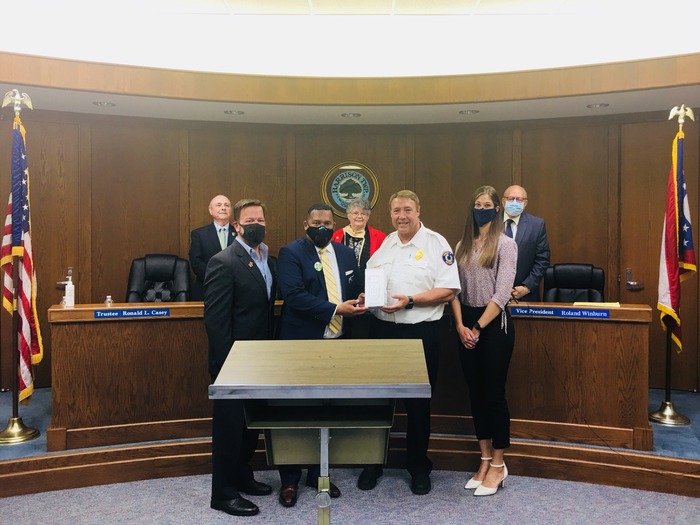 June 18, 2020 - Harrison Township Fire Department got a much needed piece of equipment last week as EvansArena Chrysler Dodge Jeep RAM donated a CPRmeter. The CPRmeter is extremely important in the early, critical moments of a cardiac arrest, the CPRmeter helps first responders optimize CPR performance by providing rea ltime feedback on essential parameters of CPR.

Evans Arena wanted to give back to their local community fire department for everything they do, especially after the 2019 tornadoes that tore through the Dayton area. Ed Bressler, General Manager of Evans Arena said of the event, "...before we had even gotten there [the dealership], the first officers on the scene saw that our flag was touching ground...they folded it [the flag] up and presented it to us." Bressler added, that while they never got the officers names that day, they wanted to repay the favor for what they did and continue to do for their community.

Which led to partnering with the Ohio Automobile Dealers Association to donate a piece of equipment to the
Fire Department. Evans Arena Dealer Principal Jim Evans, General Manager Ed Bressler, along with OADA's Emily Steveley, presented the CPRmeter to the Harrison Township Fire Department Chief Mark Lynch, President Georgeann Godsey, Vice President and former Ohio House of Representative Roland Winburn, and Trustee Ronald Casey on June 18th.
OADA has been involved with member dealers in CPR equipment donation for over ten years. The organization has donated hundreds of training kits across the state to worthy groups through member dealers in order to train more people and help save lives.
To learn more about Evans Arena, visit their website at www.evansarenachryslerdodgejeepram.com/